Our offer is based on energy management software and a dedicated team of Energy Managers.
Our technology uses pre-existing industrial data to help industrial operators centralise and share their energy performance analyses and monitoring in factories, in accordance with ISO 50001. Our Energy Manager Coaches configure the app and help you to analyse your usage and set up notifications, so that you can identify and generate energy savings and cut CO2 emissions over the long term.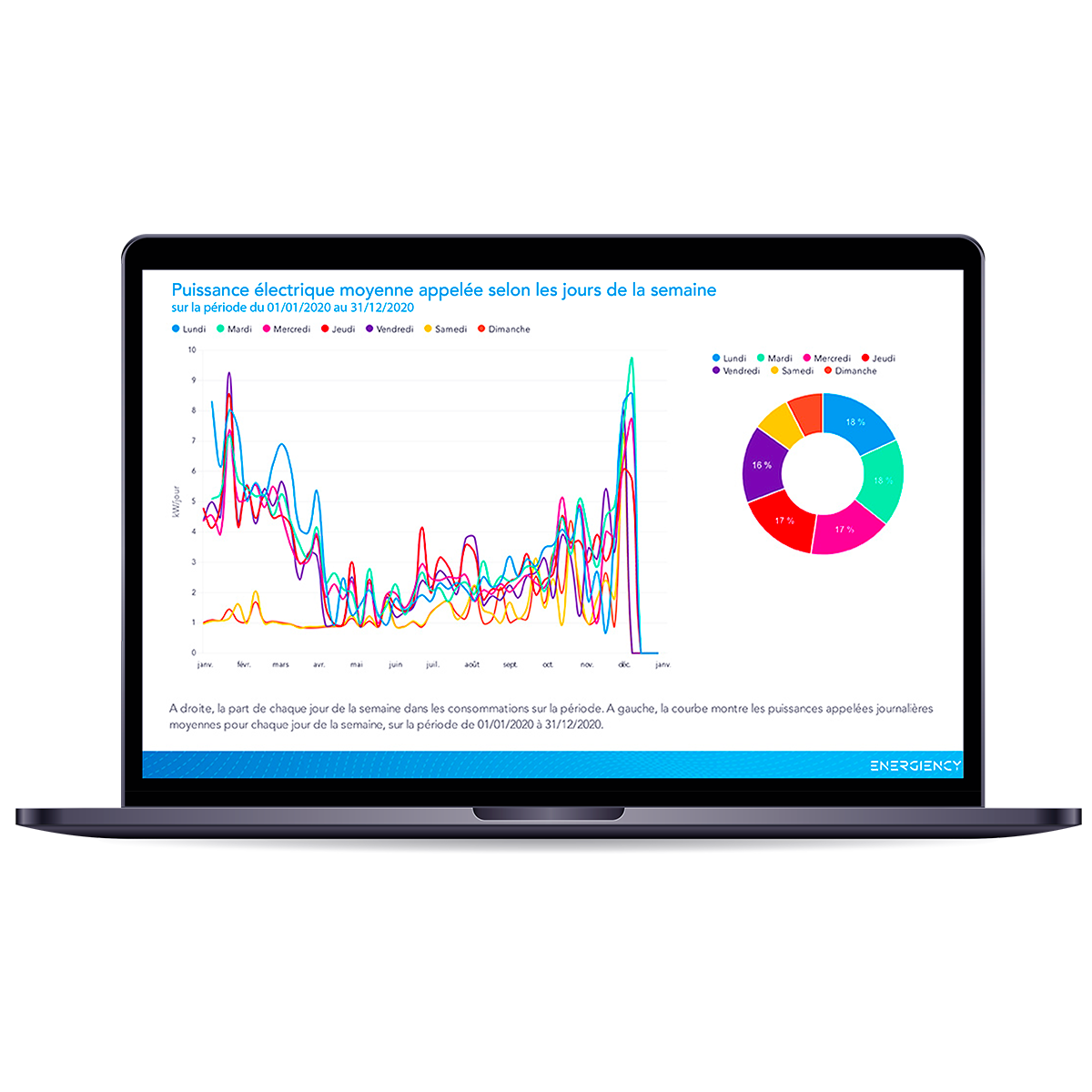 Visualize

Monitor your energy use with greater precision by consolidating your existing data
Analyze
Strengthen your energy performance management by bridging the gaps between your energy and production data
Optimize

Break new ground in energy performance by combining the strengths of artificial and human intelligence
Manage your energy performance using our software
Our Energy Managers, Developers, and Data Scientists work alongside you every day to configure, make the most of, and shape Energiency's software, so that you can get more and more value out of your industrial data and identify new energy savings and ways to cut your CO₂.
Find out more about the software
The various stages in your energy performance project
Artificial intelligence is now mature, innovative technology. To ensure it has the greatest possible impact on businesses, we offer a support service throughout your energy performance project that helps you get the very best out of this technological solution.
Our Data Scientists design algorithms to model your energy use and identify new areas for energy savings, which we then share with you via our software. Our Energy Managers are here to coach you as you improve your energy performance, so they step in day-to-day to make these energy gains a reality for you, ensuring rapid return on investment.
01
Identification of potential energy gains and software set-ups
02
Monitoring and analysis of your industrial data over time
03
1st sites: Making energy gains a reality
04
Framework agreement: Multi-site roll-out
Contact us
FAQs about what Energiency can offer
Do I have to install sensors on my industrial site to get the best out of your offer?
No, our approach is to use existing data that is ready for use in your factory. You are already ready to implement energy optimisation actions without needing to invest in equipment such as sensors and machines. Artificial intelligence is not necessarily our initial or systematic response: it is possible to make energy savings quickly using what you already have.
Is your offer suitable for all sectors and industrial sites of all sizes?
We currently work with all types of manufacturers, from mid-size companies to major groups and energy-intensive businesses in France and internationally. We tailor our solutions to each of their issues and we provide results however mature the business is and regardless of its starting position. Read our sector-by-sector case studies.
I already have an energy monitoring unit, what more do I get with Energiency?
It's even better if you already have a monitoring unit, as it means your energy data points are already structured and clearly identified! We can compare these with production data in our energy performance software and solidify your potential gains. Your current monitoring might only look at energy production in a workshop (i.e., the boiler); it might not monitor and analyse the way you use material in your workshops (e.g., parts, paper, and so on).
I already have a Data Scientist or an in-house Data Lab, what more do I get with Energiency?
The fact that you have a Data Lab or Data Scientist demonstrates that you are willing to try new approaches and get the most out of your data to help you make better decisions. For example, you might use them to optimise your turnover or processes. Your teams' expert skills are a goldmine for our people. We can work seamlessly together to give you access to our Data Scientists' cutting-edge expertise in industrial energy efficiency. Our teams adapt and produce bespoke algorithms every day via our software, so that you can quickly access an interface that is adapted to your operators' day-to-day work.
My processes are too complex and the skills required are very advanced, how will you know what support I need?
Energiency does not base its models on physical objects but on mathematics and data science. This rational statistical approach is not curtailed by complex industrial processes. Our studies enable us to understand and weigh up the variables that influence your energy consumption. This means we can always build our models around whatever processes you may already have. Our collaboration comes into its own when your professional experts and our Data Scientists and Energy Managers work hand-in-hand to create new and unique expertise and make energy gains a reality.
How long does it take to see a return on investment for an Energiency energy performance project?
ROI is less than a year and there is no need to make investments. The data science study we offer is included in the price, as is the software subscription that gives you real-time monitoring and analysis. Resources are also available for implementing an energy performance project (such as energy savings certificates, subsidies, and loans), so you will be able to fund your project without requiring an investment. In some cases, we can also suggest a price based on the savings you make.
Read our case studies
Our clients enjoy support and software set-ups tailored to their sector, the needs specific to their roles, and their objectives.
Compare and monitor the energy efficiency of production lines
Follow-up of operational instructions: operational management of a mixed coal-gas industrial boiler plant
Improve electricity day-ahead consumption forecast for a large electricity user
Machine Learning modeling for drifts detection of the gas consumption of a roll mill steel furnace
Revealing savings through descriptive analytics: data driven analytics of an automotive paint shop