Your industry's challenge
To meet environmental challenges and new customer requirements while controlling its quality and supply chain, the industry will need to be agile, sustainable and digital.
Whatever its industrial sector, no plant can no longer ignore its environmental impact. The factory is also becoming more and more connected, and AI is now involved in decision-making processes to optimize operational performance (production capacity, productivity rate, length of production cycles, etc.) and energy management.
What are the major challenges facing the industry today? How to take advantage of it to gain in competitiveness and efficiency?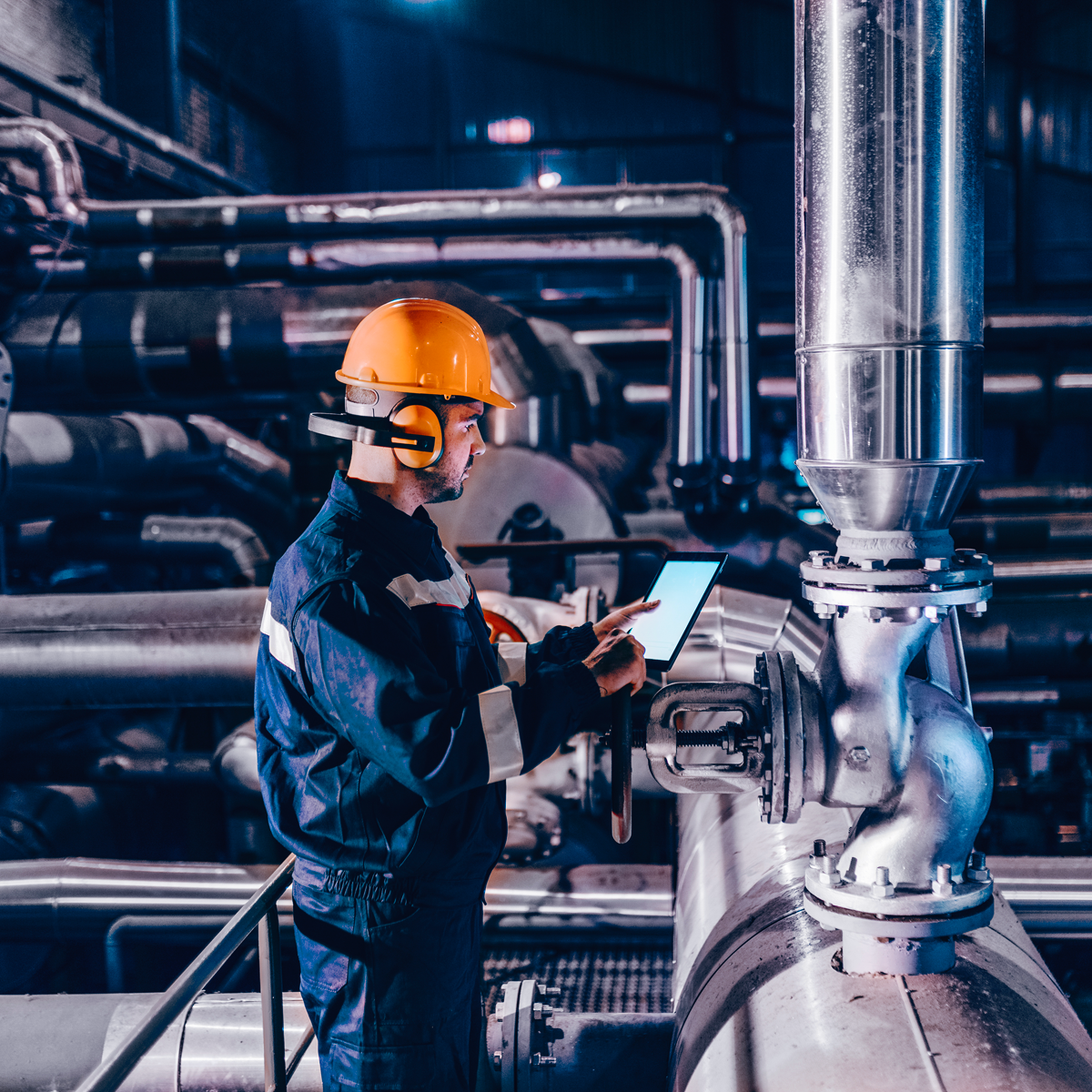 1. Cost control and industrial performance
Whether you work in a SMI or an ETI, controlling quality and costs is a priority. An optimized and agile energy management allows you to save budget and better control the impact of the variability of your production on your energy consumption.
2. Implementation of the ISO 50001 standard
While exempting manufacturers from mandatory energy audits, ISO 50001 establishes standardized processes to understand its energy consumptions and develop a sustainable energy efficiency strategy. The challenge is to successfully implement it without worrying about compliance and to identify the relevant KPIs.
3. Industry decarbonization
In 2018, industry accounted for 18% of global CO2 emissions, mostly from energy production and consumption. Reducing the carbon emissions of factories is therefore a priority issue in order to limit their environmental impact and to improve industrial competitiveness.
4. Industrial digital transformation
Industry 4.0 relies on IoT and data to optimize decision-making and industrial performance. Regarding energy, the limits of monitoring consumption via Excel are obvious: input or units errors, lack of history, absence of real time monitoring... Digitizing your energy performance tool is a quick first step in your strategy of digital transformation!
Why place energy efficiency at the heart of industrial goals?
Industrial energy efficiency refers to the operating state of a system (factory, machine, etc.) for which energy consumption is minimized for identical production quality and yield.
French industry consumes 19% (27 Mtoe) of French final energy consumption in 2019. There are still numerous sources of accessible energy savings achievable and a large potential for optimizing consumption, especially for plants with a variable types and rate of production.
Also, the objectives linked to the energy and environmental transition aim a reduction in industrial energy consumption of 14% between 2019 and 2028 .
19%
This is the share of final energy consumption of French industry (2019)
30%
This is the average potential for improving energy efficiency estimated for French industry
The benefits of industrial energy efficiency
Economic profitability and competitiveness : reduce the share of the cost of energy in the cost price of your products, obtain a better prediction of your consumption ( forecast ) , increase your energy resilience in the face of the tension of the oil market in the years to come.
Social : create jobs within your industrial structures to manage energy (e.g. Energy Manager).
Environment : Reduce and precisely monitor CO2 emissions and your energy costs, from factory to headquarters.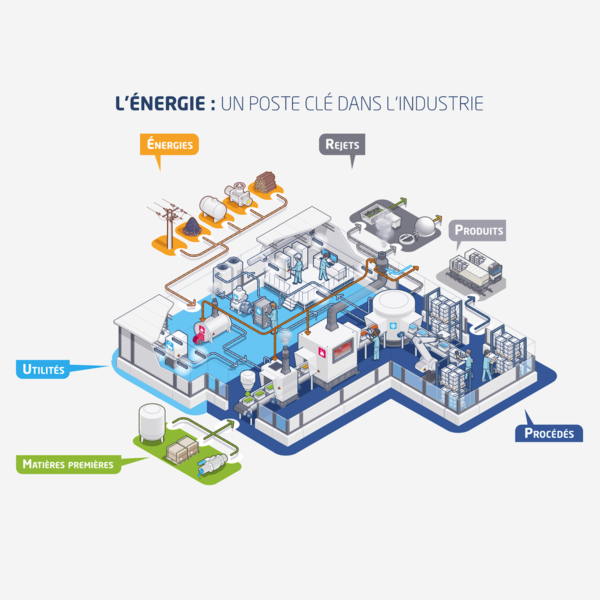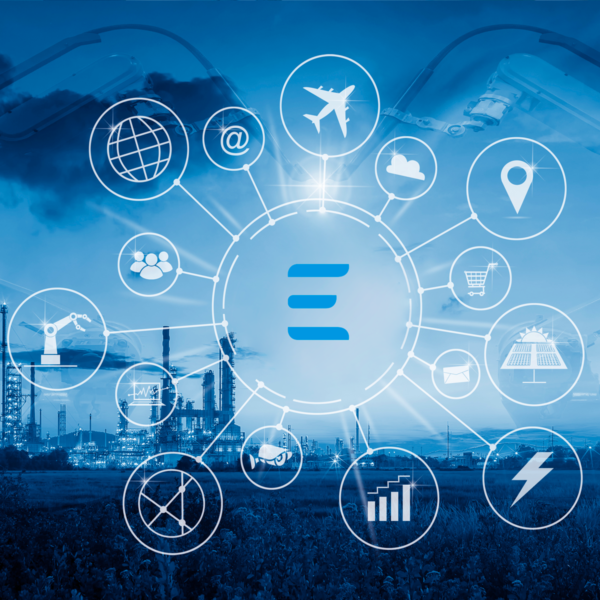 Leverage the data already existing in your factories!
To improve your energy performance, investing in new smart sensors in a metering plan is not necessarily the priority. The existing data in your factories are already numerous
and useful to identify new energy savings:
Energy consumption data : collected by your central meter or sub-meters, they relate to primary energies and utilities (electricity load curve, water and gas bills, etc. .)
Production and activity data : collected manually or in your ERP (references, production orders, rates, performance indicators, maintenance, team on duty …)
Weather data
Collecting, sorting and analyzing this historical data makes it possible to identify and weight the influence of various factors on energy consumption, before implementing real time monitoring performance indicators in energy management software and to achieve savings (kWh and CO2).
Then, artificial intelligence makes it possible to be more proactive and to go further: you will be able to identify, in real time, the difference between your actual consumption and digital twins, replicating your best consumption practices on specific series.
Discover our offer
We know that we have around 400 kW to go and get to operate the network of compressors, the boiler and the cooling network. It is incompressible. We have chosen to see it as an opportunity for us.
Philippe Cloarec - Industrial Director at the Hénaff Group
On the main rolling mill, 250 GWh were consumed in 2019, or € 6 million. It is very important for us to have a sustainable production, and therefore, to reduce our energy consumption and our carbon footprint.
Souad Mejri - Environment and Energy Engineer on the ArcelorMittal Belval site
See All The Different Use Cases